The Madison Region prides itself on the breadth and depth of our public and private K-12 education resources.
K-12 Education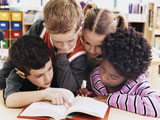 The importance of K-12 education is woven deeply into the fabric of the Madison Region. The nation's first kindergarten was established in 1856 in Watertown, on the borders of Jefferson and Dodge counties. Today, more than 156,000 students are enrolled in the Madison Region's 64 school districts. Boasting a strong high school graduation rate, over 90 percent of 12th graders in the region's 15 largest school districts graduated during the 2014-2015 school year, comparing favorably to the state average of 88.4 percent.
Higher Education
The Madison Region is home to six four-year colleges and four technical college systems that provide access to lifelong learning opportunities and cultivate a highly skilled and creative workforce.
The region boasts four campuses of the University of Wisconsin system, which consistently ranks in the nation's top 10 in size and quality. The University of Wisconsin–Madison educates 43,000+ students from over 130 countries each year at its flagship campus, and awards the fifth highest number of doctorate degrees in the nation. The University of Wisconsin–Whitewater has one of the largest business schools in the U.S. and the largest graduate business program in the state. The two-year campuses at UW-Rock County and UW-Baraboo/Sauk County offer the advantages of a small campus and a guaranteed transfer program that ensures admission to a UW four-year institution.
Two renowned private colleges also make their home in the Madison Region — Beloit College, Wisconsin's oldest college and a top liberal arts college, and Edgewood College, a Madison-based institution with specialty strengths such as nursing, education, and business.
The Madison Region's four technical colleges — Madison College, Blackhawk Technical College, Moraine Park Technical College, and Southwest Wisconsin Technical College — are highly responsive institutions that shape curricula to meet the needs of our advancing industries. Educating a combined total of 28,000+ students each year, our technical colleges provide the skills and training needed to fill positions along all levels of the workforce pipeline.

Sources: 2011 Advance Now Competitive Assessment and Wisconsin Department of Public Instruction
Save
Save
Save
Save
Save
Save
Save
Save
Save
Save
Save