Healthcare is a leading advantage in the Madison Region, lending itself fully to our superior quality of life.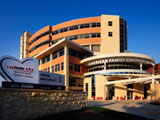 The Madison Region enjoys a superb level of medical services and accessibility, with nearly 1,500 companies providing direct healthcare services to our population. Our nationally-recognized providers in both community-focused healthcare organizations and academic and research institutions deliver a full spectrum of well-coordinated care.
According to the federal Agency for Healthcare Research & Quality, Wisconsin consistently ranks among the top states in the country for overall healthcare quality, with Mercy Health Systems in Rock County having earned the Malcolm Baldrige National Quality Award – an esteemed performance award given by the president.
The Madison Region is home to several of the top hospitals in the state – UW Hospitals & Clinics, Mercy Health Hospital, SSM Health St. Mary's Hospital, and UnityPoint Health – Meriter all rank among U.S. News & World Report's top ten Best Hospitals in Wisconsin. In addition, Monroe Clinic was named among the 2016 top 100 rural community hospitals in the nation by Becker's Hospital Review. Madison-based American Family Children's Hospital is a world-class children's medical and surgical center, named a Best Children's Hospital in four medical and surgical specialties by U.S. News & World Report in 2014.
Nearly 92% of Madison Region residents under age 65 have health insurance, many of them participating in top-rated health plans. In 2014-2015, the National Committee for Quality Assurance ranked Group Health Cooperative of South Central Wisconsin and Unity Health Insurance among the top 50 private health insurance plans nationwide.
Source: EMSI Analyst, Small Area Health Insurance Estimates (2014), U.S. News & World Report Best Regional Hospitals, NCQA Health Insurance Plan Rankings.

Save
Save
Save
Save
Save
Save
Save