There's no better place to cheer on a team than in the Madison Region.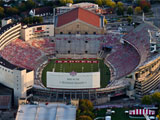 Residents of the Madison Region enjoy a host of spectator and recreational sports. Renowned for our team loyalty and avid fan base, our cities and stadiums turn red during Badger games and green during Packer season. With all-weather tailgates and fun-loving spectator traditions, our sports offer yet another reason to enjoy the Madison Region.
Wisconsin is host to three professional sports teams – the Green Bay Packers, Milwaukee Brewers, and Milwaukee Bucks – all of which are easily accessible from the Madison Region. Within our region, semi-professional teams like the Madison Mallards and Beloit Snappers provide families a relaxing day at the ball park.
The Madison Region's wealth of higher education institutions carries with it the benefit of college athletics, including Big Ten sports at UW-Madison.
For the athletic among us, the Madison Region offers a variety of participatory events, including the international Ironman competition and our own Olympic-style Badger State Games. During the summer months, residents are likely to be found on one of the region's many golf courses or outdoor rock climbing routes. In our colder season, you'll see ski slopes dotted with athletes and indoor recreation centers brimming with youth and adult soccer leagues.