Dane County Small Business Awards
---
Presented by:
Chase, Madison Gas & Electric Co., InBusiness Magazine, Mid-West Family Broadcasting, University of Wisconsin Small Business Development Center, and Wisconsin Business Development Finance Corporation, State of Wis. Supplier Diversity Council.
---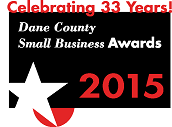 Applications are being accepted for the Dane County Small Business Awards (DCSBA), not in its 33rd year. The DCSBA celebrate small businesses and the contributions they make to our communities and the economy.
Each year in June, ten Dane County businesses that have excelled at meeting the award criteria are recognized. Award winning companies are honored at a breakfast program attended by on average 250 people. In addition to recognizing companies for their achievements, the awards breakfast has a keynote speaker, panel discussion or other informative and entertaining program.
Award Criteria
A successful for-profit company that has been in business for at least three years or 1-3 years for the emerging business award
A minimum of 3 full-time equivalent employees, including the owner
Maintain a responsible and rewarding workplace environment
Provide support (in-kind or financial) to their neighborhood and/or community
Awards considered in the following sales/revenue categories: Less than $1 million; $1-5 million; $5-10 million; $10-20 million
*An emerging business award will be considered for a 1-3 year old company. Applicants in this category do not need to meet the minimum employee requirements. The DCSBA strives to recognize a mix of excellent small businesses that:
Represent communities from throughout Dane County
Includes minority-owned and women-owned firms
Applications are being accepted from March 1 – April 24, 2015. Learn more.