IEDC Economic Future Forum – Early Bird Registration ends March 13
---
Presented by:
International Economic Development Council (IEDC)
Location:
Monona Terrace Convention Center (1 John Nolen Drive, Madison)
Time:
June 7-9, 2015
---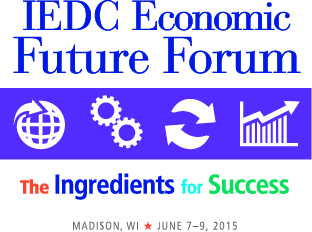 The 2015 Economic Future Forum: The Ingredients for Success will analyze trends in existing and emerging industries, while demonstrating how to foster and grow industry clusters.
The Forum will demonstrate how Wisconsin has leveraged its well-maintained transportation infrastructure, quality education, and exceptional talent into the ideal location for dynamic and innovative industry clusters.
Wisconsin is home to thriving industries, including manufacturers of automotive vehicles and parts, marine products, and food and beverage processing. Wisconsin cheese and beer, anyone? The state also has industry clusters in information technology, biotechnology and medical devices.
Wisconsin can only do this with the support of multiple organizations, including industry trade groups, government agencies, organizations providing technical assistance, and education and research facilities.
Join us in Madison to discuss innovating for prosperity, leveraging human capital, and maintaining strong positions in legacy sectors while growing and expanding into new sectors.
Learn more. Early bird registration ends March 13.