M+DEV: Game Development Conference
---
Presented by:
Wisconsin Games Alliance, Madison Region Economic Partnership
Location:
Alliant Energy Center (1919 Alliant Energy Center Way)
Time:
9:00am - 6:00pm
---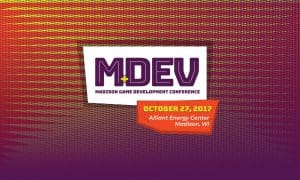 Mark your calendar for M+DEV  — a new conference dedicated to exploring and celebrating Midwestern Game Development. Come to M+DEV if you have a passion for development, design, and gaming culture in Madison and beyond.
What | M+DEV is a video game development conference for professional game developers and those seeking to become professional game developers. This conference provides a gathering place for game developers in the state, the region and beyond to discuss and share the latest information on the science, art, mechanics and business of making games.
Who | M+DEV is for anyone who is currently a professional video game developer or contractor, or who wishes to become one. M+DEV encompasses professionals in games development or one of the many businesses that support games development in the educational, entertainment and corporate markets.
Why | M+DEV is a conference that will give you greater exposure to the broad spectrum of video games development in area. Meet, network and learn from talented minds both locally and from the greater global games market. Learn how to improve the craft of making games, how to better sell your games, or meet potential partners who can mentor or even finance your games business.
For more information, visit www.mdevconf.com.
Save
Save
Save
Save