M+DEV Speaker Submissions
---
Presented by:
Wisconsin Games Alliance
Location:
Alliant Energy Center (1919 Alliant Energy Center Way, Madison, WI 53713)
Time:
Midnight
---
Speaker submissions for M+DEV are open for just a couple more days! M+DEV would not be the same without you! Now is your chance to apply to be a speaker.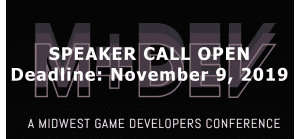 Looking for technical and business focused talks with original and diverse perspectives about all facets of the #videogame industry. Speakers will be provided complimentary admission to the conference.
Apply at:  https://www.mdevconf.com/submit-a-talk  before November 9, 2019.
Registration:
https://www.mdevconf.com/submit-a-talk