US-Israel Binational Industrial R&D (BIRD) Foundation Funding Seminar
---
Presented by:
Madison Region Economic Partnership (MadREP)
Location:
MGE Innovation Center, Room 50 (510 Charmany Drive, Madison)
Time:
1:00pm - 4:30pm
---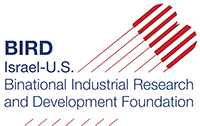 Learn about a $1M funding opportunity for a technology collaboration through the US-Israel Binational Industrial R&D (BIRD) Foundation.
The BIRD Foundation offers up to $1M in grant money for local companies and researchers working with a company in Israel or looking to partner with one.
MadREP — the BIRD Foundation's Wisconsin partner — invites you to participate in an informative session featuring a case study by recent BIRD funding recipient Virent, as well as an opportunity to meet with a BIRD representative.
Topics wil include:
 Project eligibility and the application process
Details on what a successful project/collaboration looks like
How BIRD can assist in helping companies find an Israeli partner
Examples of successful projects in a variety of industry sectors
A local case study from Virent, including the company's recognized benefits, recommendations, and best practices for Israeli collaboration
View the full agenda. To RSVP and sign up for an individual meeting, please contact Linda Hext by email or phone at 608.571.0420 by May 1.