DWD Secretary Caleb Frostman and MadREP President Paul Jadin Co-Hosted Roundtable Discussion on Workforce Solutions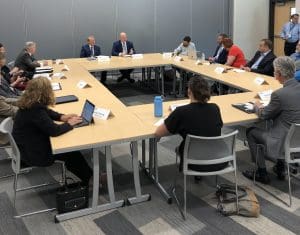 Department of Workforce Development (DWD) Secretary Caleb Frostman and MadREP President Paul Jadin met with Madison Region employers and industry leaders at Madison College to discuss the current labor force climate and solutions related to talent attraction and retention.
"We know that Wisconsin has many job openings for workers of all skill levels," Sec. Frostman said. "But filling those openings continues to be a challenge. At DWD, we are prioritizing listening to private businesses to learn their specific bottlenecks, learn from their creative workforce solutions, and learn how our agency can continue to improve our programming to provide transferable skills that lift entire industries and our state's economy."
Fourteen employers representing various industries, including construction, manufacturing, healthcare, and information technology, discussed creative solutions to attract workers to Wisconsin and how to advocate for advancement of those already working in the state.
"MadREP was pleased to be part of facilitating such important conversations between state government and the business community in our region," said Jadin. "We will continue collaborating with business and government as we administer implementation of Advance Now 2.0, the Madison Region's comprehensive economic development strategy."
Employers shared that their most successful strategies in attracting and retaining talent have focused on long-term talent pipelines, including introducing different career opportunities to middle school students and high school students and participating in youth and registered apprenticeship programs. Companies with an immediate need for skilled employees have attracted workers by providing solutions to transportation and childcare issues or have increased their benefits, including fully paid FMLA.
"Our video game development studio competes for top talent on a local, national and international basis, so hiring the best and most talented candidates is extremely important to us," said Tim Gerritsen, a game developer and studio head of Fantasy Flight Interactive. "It was great to hear so many different voices from a variety of companies working together to create strategies to both attract the best employees to Wisconsin as well as to educate and train our own homegrown talent."
DWD plans to continue meeting with Wisconsin employers to ensure that its programming is effective and efficient in developing our state's talent pipeline by expanding and upskilling Wisconsin's workforce.