Historic Garver Feed Mill Adds Three Tenants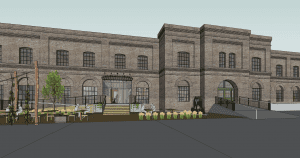 The much anticipated historic Garver Feed Mill is pleased to announce three new tenants.
Perennial, a yoga, meditation and wellness community located in Fitchburg for the past 7 years will open a second location, Perennial-EAST, at Garver Feed Mill. Owner Megan Grace is intentionally designing the space, and what it offers, to help people embody and go deeper into their purpose. Megan says she knew from the first moment she saw the Garver building that she wanted to create another space for Perennial. "People are hungry for Truth, to align with their natural path, and to do their unique part on the path of sacred service," says Grace. "The outpouring of support and excitement has been so validating and I know Perennial-EAST has found it's perfect home."
Briar Loft, a boutique floral business that is owned by Ariyl Doran and Alicia Bossher, will join Perennial East at Garver. Ariyl has been refining her floral design style alongside the team at Madison's Daffodil Parker for the past eight years. Alicia is a spreadsheet-loving go-getter who couldn't pass up the opportunity to start a beauty-generating small business. The collaborative team will provide wedding and event floral design at Garver along with personalized arrangements for local offices, restaurants, hotels, and homes.
Also adding a second location in the Madison area is Surya Cafe, curated by Chef Lauren Montelbano. Chef Lauren creates food with a commitment to improving the health and wellbeing of the planet and all whom she serves. She draws on her extensive travels and training and yogic beliefs, and it comes alive at Surya Cafe in the form of conscious, plant-based cuisine that impresses even the most avid meat-eaters. Montelbano says "I'm excited to see Surya Cafe flourish in this beautiful historic building with a past rooted in the processing of plants. With our plant-to-plate approach, and an interior that will prove to be an extension of the adjacent Olbrich Gardens, I think we will be a celebrated addition to the community at Garver."
The co-location of food and wellness businesses under one roof provides an ideal and vibrant platform for them to build on their strengths and collaborate. Perennial East, Surya Cafe and Briar Loft join an impressive list of local businesses including Nessalla Kombucha, Kosa Wellness, Sitka Salmon, Ian's Pizza, Calliope Ice Cream and Underground Catering. The Garver Feed Mill will also feature a unique event space for public and private events. More information is available at www.GarverFeedMill.com.
Restoration of the Garver Feed Mill, located next to Olbrich Botanical Gardens, started in late 2017 and is scheduled to be complete by Summer 2019. The developer, Baum Revision, focuses on impactful projects in urban environments that represent the principals' commitment to social responsibility, preservation, and sustainability. Bryant Moroder, a member of the Garver Feed Mill development team commented, "After years of work and collaboration with our partners, we're excited to see this phase of the project deliver the economic activity in the community we had envisioned". Moroder added, "Since we started, two of our future tenants have needed additional space and only a couple of spaces in the building remain."
Architectural rendering available to download: https://app.box.com/s/yl5uvvrapv0xbz5aygc0g7r6przjrhd2