Madison Named a Top 10 Emerging City for Global Trade

Excerpted from Global Trade Magazine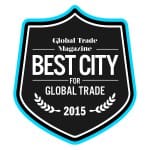 Global Trade Magazine presented its fourth annual "America's Best Cities for Global Trade" report, a collection of cities the magazine regards as having something great to offer, broken into 10 categories that emphasize the things businesses need.
"If you're looking for one quantifiable metric to define each category, you'll likely be disappointed. Rather than have those data sets serve as the Alpha and Omega of these selections, we took the liberty of reserving some editorial latitude so that we could bring you the cities that are truly making an effort to develop their local economies through attracting businesses. That's not to say we ignored the data—we didn't—but there are two challenges to simply regurgitating pre-ordained lists when covering 10 categories: First, some cities benefit from simply being large but perhaps aren't hustling with noteworthy economic development efforts; and second, each of the 105 cities are in just one category, so if a truly great city appears on our list of best infrastructure, it's out of the mix for best business environment."
"In each section you can get an idea of the criteria we looked at when compiling "America's Best Cities for Global Trade," but as a general rule, these cities jumped on our radar by being out in front, actively working to bring new businesses to their local economies. That means you've got much to gain by locating your next facility in one of these great U.S. cities because they're working to recruit you!"
Top 10 Emerging Cities
MADISON, Wisconsin
Population: 243,344
Unemployment: 3.6 percent
Population Growth Since 2010: 4.3 percent
Madison has always been able to flaunt its quality of life, which somehow manages to be both idyllic and sensible, i.e. the city boasts two lakes, four colleges, 37 libraries and 131 bars. Increasingly it's seen as a good place for business, with low unemployment, plenty of smart people (more than half of residents have at least a bachelor's degree) and incubators such as Sector67 helping to produce everything from cast iron cookware to 3D printers.