Madison Region MSA Ranks #1 for Industry Diversity in United States
FOR IMMEDIATE RELEASE
Madison, WI – The Madison MSA was named the top metro for industry diversity out of 382 Metro MSAs in the Industry Diversity Rankings published by Emsi Developer, a data reporting tool designed for economic development organizations.
"This is another impressive ranking for the Madison Region/MSA and another example of how it has distinguished itself by excelling in our legacy industries of manufacturing and agriculture while building world-renowned bio-tech, info-tech, health and fin-tech sectors," MadREP president Paul Jadin said. "The report validates the collaboration among our counties as the rural areas are clearly more dense in agriculture and manufacturing while Dane County excels in the new and emerging sectors. By itself, Dane County ranks 10th while, with the other three in the MSA, the Region becomes the most diverse economy in the country."
A diverse economy is vital to the health and stability of a region. According to Emsi, diverse economies tend to have lower unemployment rates, less volatility and recover quicker in the event of a downturn.
About Madison Region Economic Partnership (MadREP)
MadREP is the economic development agency for the eight-county Madison Region, founded by business and community leaders to create a dynamic environment where people and businesses prosper. MadREP and its partners aim to proactively and strategically position the region to take advantage of economic and business development opportunities. Visit madisonregion.org for more information.
###
Madison, WI Industry Diversity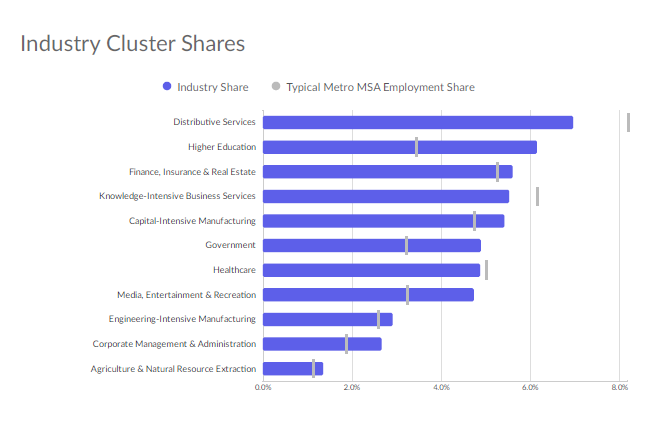 (Source: economicmodeling.com/2018/06/06/diversified-economies-matter)