MadREP Announces New Economic Development Publication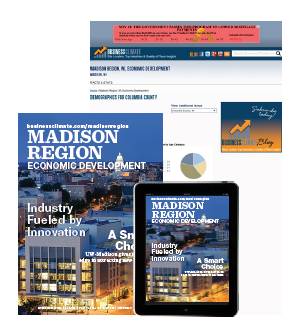 MadREP is pleased to announce the launch of a new marketing initiative that will showcase the eight-county Madison Region's many business and quality of life assets.
We've partnered with Journal Communications, an award-winning custom publisher, to develop the Madison Region Economic Development Guide, a high-quality print publication distributed to talent prospects, site selectors, and key economic development and government partners. The print publication is accompanied by a companion website and digital version.
We expect to launch the inaugural issue of this annual publication in Spring 2014.
We invite businesses, organizations, and municipalities in the Madison Region to join us in this important effort to tell the region's story. This marketing initiative provides advertisers with year-round exposure on multiple media platforms, while providing an opportunity to expand your reach and reinforce your brand to more potential customers through this annual promotional program. Learn more about advertising opportunities in this short video.
Matt McWhorter of Journal Communications will be in the area for the next several weeks to talk about advertising options in the magazine. Please join us in welcoming him to the region. If you wish to contact Matt, you may email mmcwhorter@jnlcom.com or call 800.333.8842 ext. 272.
Thank you for your support in this joint effort to promote the Madison Region.