MadREP roundtables connect IT industry with workforce development
As we continue implementation of the five-year Advance Now Strategy, our efforts within the Human Capital goal area have hit their stride. With the aim of aligning education and workforce development efforts with target sector initiatives, MadREP and key partners are hosting a series of industry roundtables that connect workforce development professionals with business representatives to identify actionable human capital needs.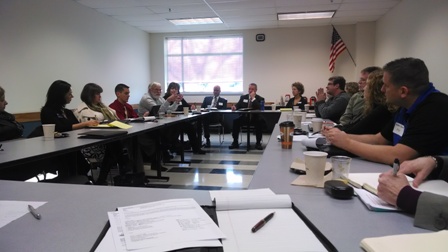 The inaugural roundtable series focused on the Information Technology (IT) sector, convening IT startups and established companies, IT entrepreneurs, and other firms with substantial IT staff. The major themes of the discussions centered on connecting existing IT students and grads with opportunities at companies in the region, generating more awareness of IT career opportunities for high school students, and fostering interest in IT-related studies in younger students, particularly among girls and minorities.

One of the immediate outcomes of this effort is Moraine Park Technical College's recent announcement that it will be moving its IT – Applications Developer Program to the College's Beaver Dam Campus. Matt Hurtienne, Dean of Moraine Park Technical College's Beaver Dam Campus, said this decision stemmed directly from the roundtable discussions hosted by MadREP. "There were regional businesses looking to fill an employment gap in the information technology sector," said Hurtienne. "After hearing their needs, Moraine Park had several discussions and felt bringing the Applications Developer Program to Dodge County would be a good start in helping these employers meet those needs."
To learn more about MadREP's roundtables and to get involved, please contact Gene Dalhoff.