M+Dev 2018: A Roaring Success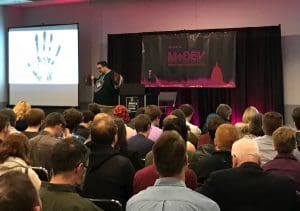 This year, the Wisconsin Games Alliance (WGA) built upon the momentum of M+Dev 2017 and welcomed over 400 game developers, designers and enthusiasts to the Alliant Energy Center for a day of networking and learning. Guests traveled from states away, leading Milwaukee Magazine to declare that this year, the "M" in M+Dev clearly referred to Midwest.
University students, including a group from UW-Stout's Game Design and Development program, soaked up the opportunities to speak directly with speakers. The packed house enjoyed two keynotes from national industry leaders: Alyssa Finley, former director of production at the recently shuttered studio Telltale Games, and Tim Gerritsen, studio head at Madison's Fantasy Flight Interactive and a founding member of the WGA.
"Our goal was to highlight the quality and quantity of talent available in the Wisconsin game development and interactive media industries," said WGA Executive Director Tyler Krucas. "From interesting and educational talks on pertinent topics to fun social gatherings, there was something for everyone in the industry at the conference. Game development continues to grow at a rapid pace here in Wisconsin, and M+Dev offers each attendee opportunities to network with and learn from the bright and passionate people that make the state such a great place to create games. I look forward to seeing how the connections made and knowledge gained at the conference positively impact the Wisconsin game development community over the next year. Following on the successful inaugural M+Dev conference in 2017 was a tall order, but M+Dev 2018 came together to carry on the tradition of what we hope will be a staple in the wider Wisconsin tech industry for years to come."