Oklahoma-based HSI Sensing Opens Development Lab in Madison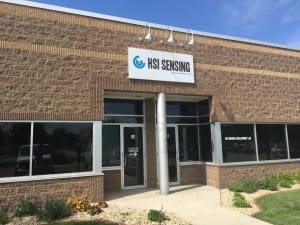 PRESS RELEASE
Chickasha, OK — HSI Sensing announces the opening of a new development lab in Madison, Wisconsin that the company says will focus on manufacturing technology, processes, and efficiencies. HSI chose Madison as its first location outside of Oklahoma because of the region's capacity for research & development, its talented engineering and manufacturing workforce, and the collaboration opportunities with both industry and academia.
"We are very excited about our new location," says HSI Sensing president Ryan Posey. "The engineers we've hired are top notch, and they bring skill sets that will help drive HSI's growth."
The 5,800-square-foot development lab in Madison is located at 4009 Felland Road and opened on July 6 with three engineering employees. HSI anticipates adding 15 additional jobs in the next 2-3 years.
"With the company's focus on innovation, R&D, and precision manufacturing, it is a perfect fit for this region," says Paul Jadin, president of the Madison Region Economic Partnership, which assisted HSI with their location and expansion search. "The talent pool and industry partners available in this area will provide a solid foundation for the company's success as it expands in Wisconsin."
The opening of the Madison facility marks HSI Sensing's first expansion outside of its 55,000-square-foot facility in Chickasha, Oklahoma.
ABOUT HSI SENSING
Headquartered in Chickasha, Oklahoma, HSI Sensing (Hermetic Switch, Inc.) is the innovative leader in the engineering and precision manufacturing of custom reed switch and sensor technology. The industry experts in solving problems for customers in challenging design applications, they also precision manufacture those solutions to ensure consistent, unmatched quality.
HSI'S SPOT ON IS THE NEW STANDARD IN LEVERLESS LIMIT SWITCHES
Since 1968 HSI Sensing, an ISO 9001:2008 and AS9100 registered company, has been the premier choice for custom and standard reed switches, proximity sensors, and other sensing technologies for an array of industries including fluid control devices, reed relays, implantable medical devices, aerospace, heavy equipment, communications, transportation, and more. Their products are used in a variety of applications including commercial and military jet engines, security systems, commercial lawn
mowers, external defibrillators, implantable medical devices, space station equipment, animal tracking, and more. HSI Sensing is a privately-held company wholly owned by the employees. For more information about HSI Sensing, please call 405.224.4046 or visit www.hsisensing.com.
– ### –