Comprehensive Network Helps Entrepreneurs Start In Wisconsin in Madison Region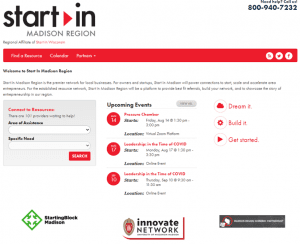 While the Madison Region continues to receive awards and accolades as a great place to start and grow a business, the volume of resources can be overwhelming. Hundreds of organizations provide services to both emerging and existing small businesses locally and across the state. However, an entrepreneur can spend a great deal of valuable time trying to find the right service at the right time.
The solution? Start In Wisconsin, a comprehensive online directory of resources and a calendar of entrepreneur-focused events. The Madison Region Economic Partnership (MadREP), StartingBlock Madison, and UW–Madison's Innovate Network led the development and implementation of Start In Wisconsin for the Madison Region.
The directory helps entrepreneurs find the vetted local, regional and state resources that best suit their needs. Resources are searchable by ZIP code, type of business assistance and many other categories. It can be found by choosing the Madison Region at StartInWI.com or on the Start In Madison Region website at StartInWI.com\Madison-Region.
"This resource is simple, convenient and up to date, fostering important connections across the entrepreneurial ecosystem of our Region," said MadREP President Paul Jadin. "Start In Madison Region will support our already attractive innovation and entrepreneurship environment." Most recently, Business Facilities Magazine ranked Madison #3 on their list of Best Business Climate in Mid-Sized Cities.
Nora Roughen-Schmidt, StartingBlock Madison's new executive director, stressed how grateful her organization is for the opportunity to work with partners at the WEDC, UW Madison, and the Madison Region Economic Partnership to successfully launch Start-In Madison Region adding, "this user-friendly platform offers numerous opportunities for small businesses, startups and gig economy entrepreneurs to explore resources and to showcase their services."
"Several years ago, we began to envision a tool that would connect community and campus entrepreneurs to the many great entrepreneurial resources in our region," said Andy Richards, director of the Discovery to Product (D2P) program at UW–Madison. "We are excited to formally announce the fruits of our labor and are appreciative of the strong partnerships with StartingBlock, WEDC, UW System, and MadREP that have made this possible."
"We started this project along with our partners because of the need to help entrepreneurs identify and connect to support, but also to help the supporting organizations connect to each other, said Aaron Hagar, vice president of the Wisconsin Economic Development Corporation's division of entrepreneurship & innovation. "While this initiative was conceived prior to COVID, entrepreneurship is a key ingredient to our emergence from these challenging times and the need to offer new ways to connect and communicate is even more important now that we are limited in our face-to-face interactions and events."
Entrepreneur support organizations (ESOs) are encouraged to apply to be part of Start in Wisconsin via an online form. As part of the network, organizations can update their profiles and interact more directly with other ESOs in the region.
Start In Wisconsin is an initiative funded by the Wisconsin Economic Development Corporation (WEDC), in collaboration with UW System Institute for Business & Entrepreneurship, StartingBlock Madison, UW-Madison and local entrepreneur support organizations in nine regions across the state.
The Start In Wisconsin platform is powered by SourceLink, a trusted and experienced organization with a national affiliation of user communities.
###
About Madison Region Economic Partnership (MadREP)
MadREP is the economic development agency for the eight-county Madison Region, founded by business and community leaders to create a dynamic environment where people and businesses prosper. MadREP and its partners aim to proactively and strategically position the region to take advantage of economic and business development opportunities. Learn more at madisonregion.org.
About Starting Block
StartingBlock Madison represents a community effort — from Madison's entrepreneur community, city and business leaders, and our educational and government institutions to help make Madison a global leader in entrepreneurship by sparking innovation and companies that make a difference – now and in the future. At StartingBlock, we create meaningful intersections that cultivate entrepreneurs, build innovative and growing companies, and drive new ideas into reality.
About UW–Madison's Innovate Network
Coordinated by UW–Madison's Discovery to Product, the Innovate Network is a collaborative member group that includes 18 university entities and campus affiliates working together to better support campus innovators. The group's shared goals include building a stronger culture of entrepreneurship on campus and strengthening connections to the Madison entrepreneurial community. www.innovate.wisc.edu
About UW System Institute for Business & Entrepreneurship
The Institute for Business & Entrepreneurship helps entrepreneurs, businesses and economic development professionals across the state to achieve their goals. The Institute, part of the University of Wisconsin System, offers business consulting, education and data services through five distinct program units: Small Business Development Center Network, Center for Technology Commercialization, Food Finance Institute, Center for Business Intelligence and Business Dynamics Research Consortium. This critical business outreach enhances the value of Wisconsin one business at a time. www.business.wisconsin.edu
About Wisconsin Economic Development Corporation
The Wisconsin Economic Development Corporation (WEDC) leads economic development efforts for the state by advancing and maximizing opportunities in Wisconsin for businesses, communities and people to thrive in a globally competitive environment. Working with more than 600 regional and local partners, WEDC develops and delivers solutions representative of a highly responsive and coordinated economic development network. www.wedc.org