The Future of the Madison Region's Infamous Beltline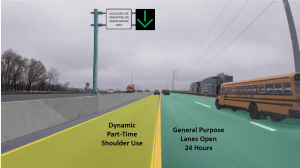 A discussion about beltline conditions accompanies just about any drive around the City of Madison. You might even check the popular Madison traffic twitter account when deciding, "which way around the lake?" It's also no secret the beltline often determines whether you arrive at your meeting 15 minutes early or 20 minutes late.
The beltline carries more people than any other roadway combination in Dane County and its traffic volume has increased by more than 10 times since its initial construction in 1956. Motorist travel times are currently uncertain through weekday peak periods due to recurring congestion and roadway conditions continue to deteriorate.
Some modifications proposed by the Wisconsin Department of Transportation (WisDOT) would offer improvements in the short-term as we await future beltline redevelopment. In addition to pavement resurfacing, median barrier and drainage modifications, an option known as dynamic part-time shoulder use could be incorporated.
During the busiest hours, dynamic part-time shoulder use presents a cost-effective, interim solution to address recurring congestion and increase travel time reliability. In addition, WisDOT's analysis predicts the number of crashes will not increase with the part-time shoulder option, compared to the no-build condition.
"It might be another fifteen years before we see a complete and desperately-needed reconstruction of the beltline," said Paul Jadin, President & CEO of the Madison Region Economic Partnership. "That, and the extraordinary population and business growth in the region, are why the MadREP Board of Directors supports the Dynamic Part-Time Shoulder initiative."
Learn more about the Madison Dynamic Part-Time Shoulder Use project at the project webpage. If you have any additional questions, feel free to contact the project supervisor Brandon Lamers at Brandon.Lamers@dot.wi.gov.