Why Madison is the Top 100 Best Place to Live 2015
Excerpted from Livability.com
By Matt Carmichael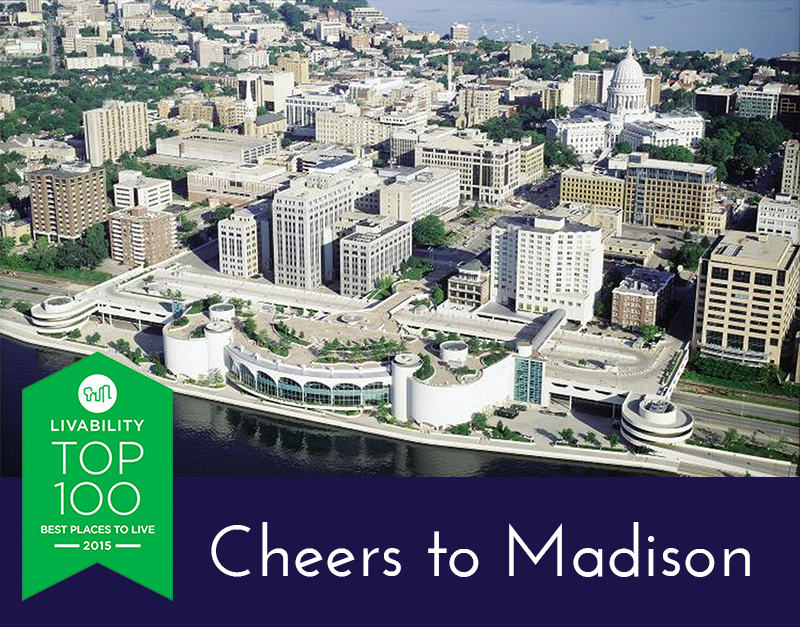 Most cities would be ecstatic to be listed amongst our Top 100 Best Places to Live. Last year, when we named Madison, Wis. number five, Mayor Paul Soglin wasn't satisfied. He convened a task force and asked each department head to come up with specific recommendations for how to do better, not just for the sake of the ranking but to continue his quest to build Madison into a more livable place. In an interview last year, he told Livability that he wouldn't rest until Madison was number one.
This year, he can rest easy. Madison sits atop our 2015 ranking of the Top 100 Best Places to Live.
The city is home to the University of Wisconsin and is also the state capital. Those facts alone help it immensely. Major institutions like that can lead to greater stability for its population and economy, and often help a small to mid-sized city outperform some of its larger counterparts. They bring in talent, research investment, jobs and a fresh influx of new residents. That helps technology incubators like Madison's Sector 67 to flourish and adds a dash of culture like you find at the annual Art Fair on the Square.
Madison's State Street district is a draw for tourists and locals, but Mayor Soglin says the locals have to come first.
"If you can create a great space where our residents want to be, visitors will want to try it out as well," he says. "We've created that sense of place downtown, and we're now expanding it out into residential neighborhoods."
Madison is a perennial favorite on our Top 10 lists. Among other accolades, it's been listed as a top college town, foodie city and a top music destination. For our overall Best Places to Live, it scores well pretty much across the board.
In conversations with Mayor Soglin, one thing that is clearly important to him, and aligns with the core values Livability measures in cities, is the idea that the city should work for everyone. Access and affordability are important to Livability and in Madison. A burst of downtown housing construction, including affordable units, has helped ease the tight vacancy rate and increased good construction jobs. Madison schools are good and getting better.
Other cities should take note – Madison shows no sign of wanting to pass on its crown in next year's ranking. While Mayor Soglin could rest now that his city is number one, he just sees it as time to get back to work. "We have to make sure that everything we're doing well we continue to do well. And then we have to do more."