Wisconsin regulators accept Cardinal-Hickory Creek application, start clock on review of high-voltage power line
Source: Chris Hubbuch | Wisconsin State Journal
Wisconsin regulators have accepted an application from three utilities seeking to build a high-voltage power line between northeast Iowa and Middleton.
The Wisconsin Public Service Commission on Thursday declared the Cardinal-Hickory Creek application complete, triggering a 180-day review period of the project, which has an estimated price tag of more than $500 million and is expected to cost Wisconsin consumers up to $72 million.
It's up to the three-member commission to determine if the project is necessary and beneficial for ratepayers.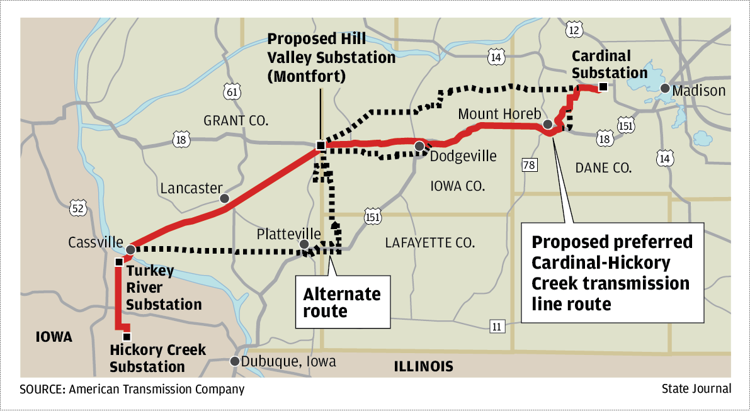 The companies say the project could provide Wisconsin customers with "net economic benefits" of between $23.5 million and $350 million over its expected 40-year life.
Opponents say the line is not needed and would damage important conservation areas. They argue Wisconsin consumers would be better served by energy efficiency and local renewable-energy projects.
With a target completion date of 2023, Cardinal-Hickory Creek would be the second new high-voltage line across southwestern Wisconsin. Badger Coulee, a $580 million line between La Crosse and Madison, was approved in 2015 and is expected to go into service later this year.