Xconomy Launches in Wisconsin: Innovation Isn't Something We Fly Over

Excerpted from xconomy.com
By Robert Buderi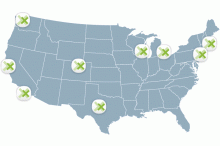 There are no flyover zones in the United States. That's the way Xconomy views the map, anyway, because we see innovation happening all over America.
So it is with great pleasure that today we are launching Xconomy Wisconsin, the ninth hub in our growing national network. It is our third launch this year—after Boulder-Denver and Texas—and another opportunity for us to make good on our promise to cover innovation where it happens.
We've met with a tremendous reception, both in Madison, the state capital, and Milwaukee, the largest city. In both places, we've not only been welcomed incredibly warmly, we've found an unusual spirit of collaboration, and many, many stories of innovation that we can't wait to start telling—in life sciences, health IT, advanced manufacturing, water technology, consumer tech, energy, and much more.
Our initial stories are already live. First out of the blocks is a welcome piece by the editor of Xconomy Wisconsin, Jeff Engel, who shares his thoughts about the state's innovation scene, and his plans for coverage—and why the real story of Wisconsin isn't a bunch of cheese heads drinking beer.
We are extremely pleased to have Jeff on the team. Everywhere we went, whether in Milwaukee or Madison, his name kept cropping up as a top young tech writer. And as he went to work preparing for today's launch it quickly became clear that he's also got that rare combination of energy, enthusiasm, and poise that's vital to a startup such as Xconomy.
Jeff will need that energy, as he will be dividing his time between his home base of Milwaukee and Madison (thanks to space in both cities provided by gener8tor), while also traveling around the state to unearth stories of innovation—all the while asking the tough questions about what might not be working as well as it should, and what else needs to be done. And editors from around our network will be contributing to Xconomy Wisconsin as well, sharing their expertise and exploring themes that cut across geographic boundaries.
Along the way, many others have helped us as well—too many to name. We are tremendously grateful to all, especially those who supported us as early underwriters and partners, because without them our launch would not have been possible. These are companies and organizations that believe in our brand of independent, quality journalism—and who often lead the way as innovators themselves, or in supporting the cause of innovation, or both. They all deserve a special plaudit for supporting us from day one:
Wisconsin Economic Development Corporation; American Family Insurance; Arrowhead Research; and Wisconsin Alumni Research Foundation; BioForward; Exact Sciences; Flying Car, presented by the Greater Milwaukee Committee; gener8tor; Madison Region Economic Partnership; Madison Gas and Electric; The Water Council; and 4490 Ventures.
MadREP is proud to sponsor the launch of Xconomy Wisconsin.