The Entrepreneurial Ecosystem at UW-Madison
---
Presented by:
Wisconsin Alumni Research Foundation (WARF)
Location:
H.F. DeLuca Forum at the Discovery Building
Time:
4:00pm - 5:30pm
---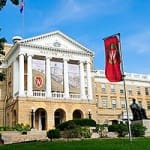 Entrepreneurons is a WARF series focused on bringing the fundamentals of getting a new venture started to the UW–Madison community. At the next session of WARF Entrepreneurons, local experts will discuss the entrepreneurial resources available on the UW–Madison campus. Panelists include:
John Biondi, Discovery to Product (D2P)
Anne Smith, Law & Entrepreneurship Clinic
Mike Williams, Business Clinic
Dan Olszewski, Weinert Center for Entrepreneurship
Leigh Cagan, WARF
Elias Meyer-Grimberg, Student Business Incubator
Register by October 8.