Wisconsin Governor's Business Plan Contest
---
Presented by:
Wisconsin Technology Council
Time:
5:00pm
---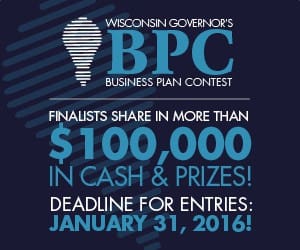 The 13th annual Wisconsin Governor's Business Plan Contest is accepting entries online for the 2016 competition until 5 p.m. Sunday, Jan. 31, 2016.
The contest is designed to encourage entrepreneurs in the startup stage of tech-based businesses in Wisconsin. The contest links up-and-coming entrepreneurs with a statewide network of community resources, expert advice, high-quality education, management talent and possible sources of capital. It also leads to valuable public and media exposure for the top business plans and helps spur economic growth in the state. Finalists will share in more than $100,000 in cash and in-kind prizes.
Since its inception in 2004, more than 3,100 entries have been received and about $2 million in cash and services (such as legal, accounting, office space and marketing) have been awarded. Contest categories are Advanced Manufacturing, Business Services, Information Technology and Life Sciences.
For their initial entries, contestants will submit a 250-word (or 2,000-character) idea abstract online at www.govsbizplancontest.com. Contestants who advance to subsequent contest rounds will expand their plan in stages.
Past finalists have launched companies that have raised more than $160 million in angel, venture, grants and venture debt over time – all while creating jobs and economic value for Wisconsin. The contest's major sponsors include the Wisconsin Economic Development Corp.
To enter, become a judge or learn about sponsorship opportunities, visit www.govsbizplancontest.com.