Women's Entrepreneurship Day Wisconsin
---
Presented by:
The Creative Company
Location:
Monona Terrace (1 John Nolen Drive, Madison )
Time:
8:30am - 5:15pm
---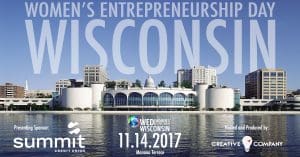 Attend the first ever Women's Entrepreneurship Day (WED) Conference in Madison, Wisconsin, on November 14, 2017. On this day, you will be inspired, equipped and changed. And you'll be in good company.
WED ignites women leaders, innovators, and entrepreneurs to initiate startups, drive economic expansion, and advance communities worldwide.
At the Conference you will
Learn from entrepreneurial greats about the triumphs and trials of being a business owner.
Enjoy high-value content and unique social experiences, with a focus on authentic relationship building.
Participate in a live "think tank" where entrepreneurs are pulled from the crowd to share a challenge they are facing that is then turned over to the tables to solve.
Hear from venture capitalists, angel investors and traditional bankers about what they are looking for in both start-ups and growing businesses and how you can be prepared to succeed.
Connect with countless other business owners and those who support them.
Grow as a leader.
Be inspired.
Be a part of making history here in Wisconsin
Learn more. For more information, contact at The Creative Company CEO Laura Gallagher by email or call 608-442-6336.
Save
Save
Save
Save
Save
Save
Save
Save
Save