2018 Certainly Wasn't Boring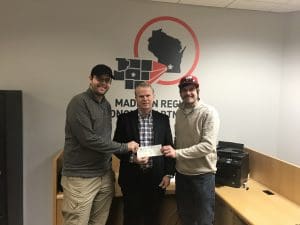 2018 was an eventful and prosperous year for the Madison Region economy, as well as MadREP. Just this week, with great pride, I presented the Wisconsin Games Alliance (WGA) with their operating funds as they become a fully standalone Center of Excellence for the Midwest gaming industry. WGA has grown tremendously since its founding in 2015 and, for the last two years, their M+Dev conference has welcomed over 400 game developers, designers and enthusiasts to the Alliant Energy Center for a day of networking and learning.
It would be impossible for me to reflect on 2018 without first touting the completion of our five-year Advance Now economic development strategy and the immense amount of planning our staff and partners have engaged in to architect our next five-year plan, Advance Now 2.0. MadREP will unveil the final strategy in early 2019 and begin facilitating implementation immediately.
Our consultant, Mac Holladay, closed our recent steering committee meeting with the words of former Secretary of State Colin Powell (noted in his book, Leadership): "'If it ain't broke, don't fix it' is the slogan of the complacent, the arrogant, or the scared. It's an excuse for inaction, a call to non-arms. It's a mindset that assumes (or hopes) that today's realities will continue tomorrow in a tidy, linear, and predictable fashion. Pure fantasy."
Our next strategy will be a transformative agenda for positive change and will require the Region to redouble its efforts in implementation and investment. Many of you have already stepped up and given of your time, talents and resources. To you, I say thank you wholeheartedly. Many others will be hearing from me over the coming weeks I look forward to working together to build a more prosperous, innovative and inclusive Madison Region. We expect the implementation of Advance Now 2.0 to be as transformative as the last six years have been for our community.
MadREP worked with several entrepreneurs this year, providing direct business assistance to several startups, including support with their pitches and business plans. Entrepreneurial activity continues to grow in the region, as evidenced by the continued growth and opening of co-working and maker spaces like Starting Block Madison, Sector67, 100State, 100crypto, and Industrious.
In addition to our work with startups, MadREP attended the groundbreaking of the Center for Dairy Research (CDR) with pride after we provided federal and state funding guidance to advance the development of the $48 million facility and its Center of Excellence designation.
All this entrepreneurial growth would be impossible without the Madison Region's commitment to its human capital initiatives. Inspire Madison Region has made astonishing strides this year, joining the Inspire Wisconsin Network to give local students and educators more opportunities for career exploration. All 63 public school districts in our eight-county region have access, as well as three technical colleges, one UW system school and one private college. The Region also boasts over one-third of the participating employers and career coaches in the state.
As this year ends, I would also like to offer my sincere gratitude to all our investors, partners and other stakeholders for the way we've come together to drive the Region's economy. 2018 marks our fifth year of continued partnership with the Urban League of Greater Madison in hosting the Madison Region Economic Development & Diversity Summit. It was another record year for attendance and, once again, served as an opportunity to unveil our Workplace Diversity & Inclusion Survey which saw 367 companies share their practices in 2018. We also unveiled our annual Madison Region Economic Development Guide at the Summit. We continue to enjoy support from Presenting Sponsors UW Health | Quartz and Alliant Energy in putting on a great conference. Don't forget to mark your calendars for the 2019 Summit on May 17, 2019!
In 2018, we have entertained nearly 40 requests for information (RFIs) which are essentially site searches initiated by businesses or their consultants/site selectors. The majority are still pending, but we have been successful in a number that have closed. These include Phoenix LLC in Fitchburg, Eurofins Scientific in Madison, MacDon Enterprises in Sun Prairie and a regional hotel feasibility site search which will result in three new hotels for the Madison Region. We continue to host site selectors on a regular basis and (with the help of the Greater Madison Convention and Visitor's Bureau) hosted 2018's LiveXchange event, which brought 21 site selectors to Madison.
On the subject of bringing new folks to Madison, MadREP continues to regularly feed data to our partners at the Dane County Regional Airport to support their conversations with major airlines. With the exciting announcement of daily direct MSN to SFO flights, we were especially delighted to play a role in the process and enjoy some kudos from our collaborators. "MadREP is an important partner for air service development at the Dane County Regional Airport," said Airport Director Bradley Livingston, AAE. (now retired). "Collaboratively they provide important workforce and economic data about south central Wisconsin which is provided to our airline partners to foster future growth at MSN."
Data analysis and implementation strategy are fundamental to our mission at MadREP and, after the first of the year, we will be unveiling our ICT Cluster Analysis (January), Agriculture, Food and Beverage (AFB) Cluster analysis (February) and the three remaining industry sector reports are slated for publication in 2019. All will be posted on MadREP's web page.
Finally, we provided ED 101 training for Deerfield and a summit in Cambria and Friesland this year. Last year, our training sessions in Rio and New Glarus informed many of the economic development plans in the city in subsequent months. ED 101 trainings are an excellent example of the many ways we collaborate with our economic development partners to drive the Region's successes. To date, MadREP has completed sixteen training events throughout the eight counties.
The initiatives I've mentioned here are a small selection of our (and the Region's) accomplishments in 2018. I look forward to personally sharing our progress and results in the year ahead and wish you a very happy holiday season.
Sincerely,
Paul Jadin
President, MadREP