MadREP Releases 2019 Workplace Diversity & Inclusion Survey Findings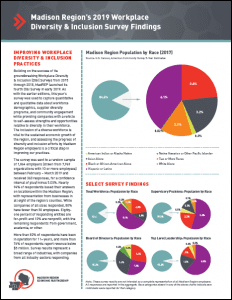 Building on the success of its groundbreaking Workplace Diversity & Inclusion (D&I) Surveys from 2015 through 2018, MadREP launched its fifth D&I Survey in early 2019. The survey was sent to a random sample of 1,864 employers (drawn from 7,969 organizations with 10 or more employees) between February – March 2019 and received 363 responses, for a confidence interval of plus/minus 5.03%.
As with the earlier editions, this year's survey was used to capture quantitative and qualitative data about workforce demographics, supplier diversity programs, and community engagement while providing companies with a vehicle to self-assess strengths and opportunities relative to diversity in their workforce.  The inclusion of a diverse workforce is seen by MadREP as vital to the sustained economic growth of the region and assessing the progress of diversity and inclusion efforts by Madison Region employers is a critical step in improving our practices.
As this was the fourth year using the same survey and working in partnership with the Survey Center at UW-River Falls, we are now beginning to develop a baseline of results to better identify potential areas of progress or concern moving forward.
Selected comparative metrics from the 2016-2019 surveys:
The proportions of women and people of color on boards of directors have remained fairly consistent over the four years of the current the Workplace Diversity and Inclusion Survey.
The proportion of women in the total workforce at participating organizations may be trending downward slightly.
The percentage of women and people of color in top leadership positions both appear to be trending slightly upward.
The proportion of Other Supervisors identified as people of color has been fairly consistent over the 2016 – 2019 period.
After three years of increases, 2019 saw a decline in the proportion of respondents saying their employees of color had a higher turnover rate than the rest of the workforce.
For the second year in a row, there was a slight decline in the proportion of responding organizations who have at least a part-time staffer focused on diversity and inclusion issues.
"While a number of the metrics measured in the survey are moving in a positive direction, other results reveal significant opportunities for improvement", said Gene Dalhoff, MadREP V.P. of Talent & Education.  "This helps us to understand where to focus our workplace diversity & inclusion efforts both at the individual company and broader regional level," said Dalhoff, adding, "There is still much work to be done in our region before we are seen as a model for diversity and inclusion in the workplace."
To view the complete survey report, please visit the Research & Reports page on the MadREP website.  For more information, contact Gene Dalhoff at gdalhoff@madisonregion.org.