MadREP's State of the Madison Region Economy Draws Nearly 150 Attendees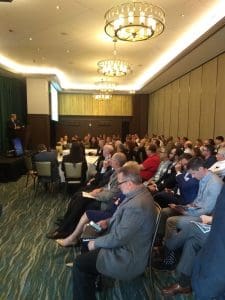 Nearly 150 government and business leaders, members of the media and economic development professionals joined MadREP at The Edgewater on Thursday, May 16 for our State of the Madison Region Economy address. The presentation featured new rankings, never-before-seen economic data, and a strategic vision to continue growing our eight-county region through the next five years.
After a welcome by Wisconsin Secretary of Workforce Development Caleb Frostman, William Fruth, President at POLICOM Corporation, revealed how our Region's metropolitan and micropolitan statistical areas stack up against the rest of the nation for economic strength.
Subsequently, MadREP President Paul Jadin presented Advance Now 2.0, the Madison Region's next five-year comprehensive economic development strategy. This report follows the first Advance Now plan, originally presented in 2012, and contains recommendations for advancing the Region's economy over the next five years. According to Jadin, "we need to get serious about implementation. We have to assess opportunities to improve broadband connectivity, continue developing sector-specific centers of excellence and build consensus for the creation of a multi-county regional planning commission."
Following Jadin, MadREP and UW Extension staff unveiled new data and analysis on the Madison Region's target sectors: agriculture, food and beverage, advanced manufacturing, healthcare, information communications technology, and bioscience. The industry-specific data in these reports allows MadREP to attract companies in these sectors by demonstrating we have the labor force to support their needs.
After the presentation, the "standing room only" crowd gathered in The Nolen Gallery for refreshments and networking.yh6