MadREP's Workplace Diversity & Inclusion Survey: A Deeper Dive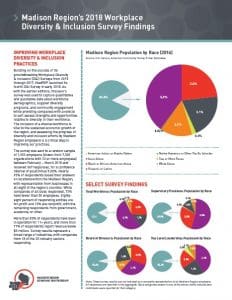 In the 5/31/18 edition of eNews, we reported on the newly released overview of the findings for this year's Madison Region Workplace Diversity & Inclusion Survey.
As reported earlier, that survey was conducted in February and March when a random sample of 1,903 employers with 10 or more employees were asked to participate.  Of that number, 367 companies and organizations completed the survey, for a confidence level of plus/minus 5%.
Since the release of the overview findings in May, the final report has been released. As this was the third year using the same survey, we are now beginning to develop a baseline of results to better identify potential trends moving forward.
Comparative highlights from the 2016, 2017, and 2018 surveys:
When reviewing the composition of boards of directors, top-level leadership, and other supervisory positions. the participation rates over the three years for non-Whites and women vary within a narrow range, As such, the data to date does not indicate definitively that participation by non-Whites and women in these positions is increasing or decreasing. Any such trends will be more identifiable with data from future surveys.
The percentage of organizations with a separate written diversity statement has increased since 2016, from 14% that year to 22% in 2018, indicating progress.
The percentage of organizations with staff dedicated to diversity and inclusion efforts has shown a modest increase from 10% in 2016 to 15% in 2018, indicating progress.
Since 2016 there has been a statistically significant increase in the percentage of organizations that have workforce demographic goals, from 11% in 2016 to 17% in 2018, further indicating progress.
The percentage of respondents who believe their turnover rate for non-white employees is equal to white employees has remained within a narrow range of 67%-71% between 2016 and 2018.
The percentage of organizations with a diversity supplier program has changed little between 2016 and 2018, increasing from just 2% to 4%, but the trend is positive.
 "A number of the metrics measured in the survey are moving in a positive direction over time, which is encouraging," said Gene Dalhoff, MadREP V.P. of Talent & Education.  "However, there is much work for our region to do before we are seen as a model for diversity and inclusion in the workplace."
 To view the complete survey report, please visit the Research & Reports page on the MadREP website.  For more information, contact Gene Dalhoff at gdalhoff@madisonregion.org.