Sauk County Development Corporation Completes Housing Study and Needs Assessment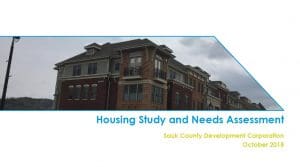 The Sauk County Development Corporation, in partnership with Alliant Energy, the County of Sauk, City of Baraboo, City of Reedsburg, Village of Prairie du Sac, Village of Sauk City, Village of Spring Green, and Village of West Baraboo contracted with Vierbicher Associates to complete a housing study and needs assessment to guide immediate and future housing actions in Sauk County. The study assessed the existing housing supply, identified issues and gaps related to housing, established a demographic profile of the communities, projected current and future demand for housing using available data, and identified potential financing opportunities to achieve the partner communities' housing goals.
"As economic developers, we often focus on attracting new business and supporting the growth of existing businesses," said MadREP Acting President Michael Gay. "A lack of affordable housing, including workforce housing, will be an ongoing obstacle to attracting the necessary workers to support those efforts. Housing studies in our counties and communities are a great first step in identifying solutions to these housing challenges."
The project was divided into four different phases: Engagement, Assessment, Strategy, and Implementation. The planning process involved using the insights gained from the engagement and assessment phases to develop a list of specific needs for each partner community, along with the strategies needed to address those needs. The project team prepared a summary of future market demands for 5, 10, and 15-year increments that identified the number and type of units, along with the generational impacts that influence housing preferences. The strategies included in the Plan were drafted to:
Streamline the development process
Support development of housing types that are not in sufficient supply
Encourage development of housing options that support the preferences of desired demographics
Identify specific long-term strategies to match housing demand with appropriate supply
Identify target performance measurements, benchmarks, and milestones for strategic housing initiatives
Outline a plan for future housing study updates
SCDC Executive Director Ed White states; "I believe this study accomplished the mission of laying out the housing issues in Sauk County and we will work with the County and the six communities to fine tune specific strategies to help them address their individual housing issues."
The report can be found here.