Thank you for joining us during last week's Madison Region Economic Development & Diversity Summit! The event, now in its seventh year, is hosted annually by MadREP and the Urban League of Greater Madison.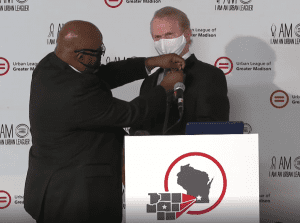 Over the course of the week, the event's web page saw over 23,000 views by over 1,200 unique devices. We're so appreciative that you contributed your time, financial support and insights via our discussion channel.
The two-day event was hosted virtually and featured speakers and panels who consistently reinforced the importance of access to opportunity as the Region weathers the COVID-19 pandemic and moves beyond.
Attendees enjoyed remarks from elected officials (including Governor Tony Evers) and economists, as well as business and thought leaders from our Region and beyond. National Urban League President Marc Morial kicked off the first day reminding viewers that access is fundamental to a strong and equitable economy. His astute use of the metaphor, "sometimes you have to put the jam on the lower shelf" was echoed by attendees throughout the two-day conference.
After scattering to breakout sessions, virtual attendees came back together to listen to Invest Puerto Rico CEO Rodrick Miller speak about building a robust ecosystem through economic inclusion. Notably, he reinforced the role of local government in driving that ecosystem to create opportunity.
Carlos Andrés Gómez began day two by delivering a combination of stories, inspiration and spoken-word poetry that had attendees declaring, "move over Hamilton" in the conference chat.
After another inspiring round of breakout sessions, the event's audience came back together one last time for a panel discussion on driving diversity from the CEO Suite with SSM Health's Damond Boatwright, Summit Credit Union's Kim Sponem and UW Health's Dr. Alan Kaplan.
This unique collaboration between the Urban League and MadREP serves as a national model for economic growth and economic inclusion. We would like to extend a special thank you to the many sponsors who made the event possible. We are grateful to everyone who helped make this continued collaboration a success.
Thank you also for the overwhelming messages of support for our organizations and speakers. In addition to those, we've received some questions. Here are answers to some of the more frequently asked questions:
How do I fill out session feedback surveys for the sessions I attended?
You can do that by visiting the agenda area of the conference website. The surveys are located within the session pages.
How do I fill out the full conference survey?
You can do that by clicking "Event Survey" on the conference webpage.
I saw a session I loved. How do I get a hold of those materials?
Session materials, including slides, are actively being added to those agenda pages. We will continue to update you as new materials become available.
Can I catch videos of sessions I missed?
Yes, videos have been posted to those agenda pages and are available for viewing.
The speaker for my session had a bad internet connection and couldn't present. Can I still see their presentation?
Yes. The slides have been posted and we are actively coordinating a special recording.
Thank you again for sharing your time with us and please be sure to offer your feedback so we can continue to bring you relevant topics and speakers for years to come.