WEDC, MadREP announce recipients of Disaster Recovery Microloan Program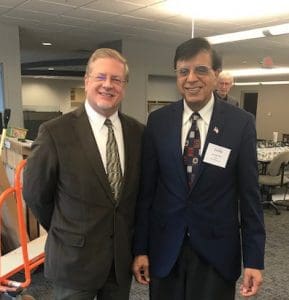 MIDDLETON, WI. DEC. 13, 2018 – The Wisconsin Economic Development Corporation (WEDC) and the Madison Region Economic Partnership (MadREP) announced today that MadREP is providing 10 no-interest loans of $15,000 each to businesses that were affected by the flooding and severe weather in south-central Wisconsin in late August and early September.
The announcement was made today at Standard Imaging in Middleton, one of the 10 businesses that was awarded a zero-interest loan.
"We are acutely aware of the devastating damage that was sustained by many businesses across southern and central Wisconsin this past summer," said Mark R. Hogan, secretary and CEO of WEDC, the state's lead economic development organization. "The purpose of this loan program, which is administered through our regional partners like MadREP, is to help these businesses to recover and get back on track so they are positioned for greater growth and success in the future."
"It was fortuitous that WEDC planned for this program so it could be readily available to Wisconsin businesses after this summer's severe weather events," said MadREP President Paul Jadin. "MadREP is pleased to have been selected to administer and disperse these greatly needed funds to businesses in our region."
The 10 area businesses receiving loans to date include:
Blue Lake Community (Oxford)
Cardin Adult Family & Foster Home (Mount Horeb)
Clubhouse for Kids (Middleton)
The Haven Spa (Madison)
Jots Food Mart (Madison)
KEVA Sports (Middleton)
KLER, LLC (Middleton)
Radio Plus, Inc. (Fond du Lac)
Shirley's Barbershop (Montello)
Standard Imaging (Middleton)
In October, WEDC awarded a $755,000 grant to MadREP to provide no-interest loans to small businesses that were impacted by the recent flooding to provide them with a short-term source of funds for repair work and operating expenses until more long-term recovery funding can be secured. The loans have a two-year repayment period, with payments deferred for at least six months.
Loan applications were accepted from businesses in the MadREP region—Dane,  Rock, Sauk, Dodge, Iowa, Columbia, Jefferson and Green counties (as well as adjacent Wisconsin counties). To qualify, businesses must have suffered measurable physical damage because of the disaster and must intend to resume business operations in the community as quickly as possible.
In Dane County alone, 126 businesses sustained $21 million in damage, including 22 that had major damage, according to Wisconsin Emergency Management. In Sauk County, 32 businesses sustained $900,000 in damage.
These loans were made possible through WEDC's Disaster Recovery Microloan Program. Under the $2 million program, WEDC awards grants to regional partners, who in turn issue loans to businesses.
The WEDC Board of Directors in September approved the program after businesses and homes in 18 counties were damaged following several weeks of intense storms, tornados and heavy rainfall across much of southern and central Wisconsin. These storms produced devastating flash flooding in multiple regions, resulted in seven dam failures, caused several lakes and rivers to spill out of their banks, and damaged businesses, homes, bridges and roads.
More than 300 businesses statewide sustained nearly $34 million in damage, while more than 1,200 homes sustained more than $25 million in damages, according to Wisconsin Emergency Management.
WEDC's Disaster Recovery Microloan Program is available to businesses in all 72 counties. For more information, visit www.wedc.org/diasterrecovery.
###
About the Wisconsin Economic Development Corporation
The Wisconsin Economic Development Corporation (WEDC) leads economic development efforts for the state by advancing and maximizing opportunities in Wisconsin for businesses, communities and people to thrive in a globally competitive environment. Working with more than 600 regional and local partners, WEDC develops and delivers solutions representative of a highly responsive and coordinated economic development network. Visit wedc.org or follow WEDC on Twitter @WEDCNews to learn more.
About Madison Region Economic Partnership (MadREP)
MadREP is the economic development agency for the eight-county Madison Region, founded by business and community leaders to create a dynamic environment where people and businesses prosper. MadREP and its partners aim to proactively and strategically position the region to take advantage of economic and business development opportunities. Visit madisonregion.org for more information.