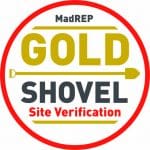 GOLD SHOVEL SITE VERIFICATION
The Gold Shovel Site Verification Program assists communities, counties, and private land owners in packaging and marketing development-ready land to site selectors and business owners looking to locate or expand in the eight-county Madison Region.
Created to provide a similar service to the Wisconsin Economic Development Corporation's Certified In Wisconsin program, but at a lower cost, the Gold Shovel program demands fewer requirements and is not held to the same level of review, documentation, and assessment. MadREP fervently supports the Certified In Wisconsin program, and will work with you to certify sites, but we are confident that a site that is verified as shovel-ready through the Gold Shovel Program will enjoy a significant bump in promotion and market appeal as well.  See Gold Shovel Site Verification program details.

---
Wisconsin Economic Development Corporation developed the Certified In Wisconsin® program to set consistent standards for the certification of industrial sites, putting in place all the key reviews, documents and assessments most commonly required for industrial use. Certified sites mean faster turnaround times, quick approvals and low risk, so you can break ground on new development projects the moment you're ready. See Certified In Wisconsin program details.
MADISON REGION GOLD SHOVEL VERIFIED AND CERTIFIED IN WISCONSIN SITES
GATEWAY BUSINESS PARK
Baraboo, Wisconsin
Ideally located off the newly completed Highway 12 (slated to open in 2017) at the entrance to the City of Baraboo. Read more.
THE PARK AT HIGH CROSSING
Madison, Wisconsin
Ideally located at Crossroad Dr and City View Dr and Quarry Park Rd. Read more.
WHITEWATER BUSINESS & TECH PARKS
Whitewater, Wisconsin
Publicly owned land east of State highway 59 and north of US Highway 12. Read more.
COMING SOON
BEAVER DAM 151 BUSINESS PARK
Beaver Dam, Wisconsin
A brand new, 200-plus-acre corporate park development bordered on the east by Highway 151. Read more.
BEAVER DAM 151 COMMERCE PARK
Beaver Dam, Wisconsin
A new, 350-plus-acre business park, of  which 280 acres comprise a Certified Site. Read more.
DEFOREST BUSINESS PARK
DeForest, Wisconsin
DeForest's Business Park is located on 115 acres on US 51 adjacent to existing industrial uses. Read more.
GATEWAY BUSINESS PARK
Beloit, Wisconsin
The new Gateway Business Park is easily accessible on the east side of the Interstate. Read more.
HIGHWAY 11 BUSINESS PARK
Janesville, Wisconsin
A 224-acre business park located on the southern side of the city, along Hwy 11, east of I-90/39. Read more.
LIBERTY BUSINESS PARK
Verona, Wisconsin
This 130-acre site fronts US Hwy 151, which connects to US Hwys 12/18, then to I-90/39/94. Read more.
NORTH MENDOTA ENERGY AND TECHNOLOGY PARK
Westport, Wisconsin
33 acres of contiguous buildable land 5 miles away from I-94 and I-90/39. Read more.
RDC FITCHBURG TECHNOLOGY CAMPUS PHASE II
Fitchburg, Wisconsin
Easily accessible and located within minutes of commercial activity and area amenities.
Read more.
WHITEWATER UNIVERSITY TECHNOLOGY PARK
Whitewater, Wisconsin
A 35-acre park on the east side of the city with convenient access to I-90. Read more.
Save
Save
Save
Save
Save
Save
Save
Save
Save
Save
Save
Save
Save
Save
Save
Save
Save
Save
Save
Save
Save
Save
Save
Save
Save
Save
Save
Save
Save
Save
Save
Save
Save
Save
Save
Save
Save
Save
Save
Save
Save
Save
Save
Save